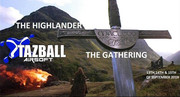 The Highlands Biggest Airsoft Game Event.
Tazball Airsofts First 3 Day Airsoft Event.........
50 Acre Woodland / Urban Play Area.
Call Taz on 07848448408 to book.
"There can be ONLY ONE"
Last Man Standing Game Play.
** Event Ticket Price £60 own gunners.
** Ticket including gun hire for the 3 day event £100.
INCLUDES
YES three days admission including play!
YES choice of weapon. Including M4, AK47 or a G36.
YES camo apparel & full facial protection.
YES a massive 1 Kilo bag of high grade .2 BBs.
YES unlimited battery supply throughout the three day event.
(Rental Available on first come first served basis.)
Weekend Includes........
Friday Noon - Sunday 4pm
*Friday gates open at 12 noon
If enough players...... 2pm - 5pm. Mini Game Play Skirmishes
Evening game 7pm - 10pm
*Saturday @ 10am - 5pm.. The Big Game - "The Highlander - The Gathering"
*Sunday @10am - 4pm. Kill House Target Game & Target Competition.
Music Saturday Night.
Accommodation and camping available @
https://www.farrestate.co.uk/
only a two minute walk away.
Please contact Lucy direct on 07904075361.
**Camping is £15 per person for 2 nights including a cooked Breakfast.
**Also available are 12 Double Rooms @ £60 per person for 2 nights including a Cooked Breakfast. (A £40 security deposit per person is required on arrival. Returnable on check out.)
Also available only a 15 minute drive away
http://cullairdcottage.co.uk/
follow the link for direct booking. Self catering cottage, sleeps four.
OR
Kinchyle B&B... ALL B&B ROOMS NOW SOLD
*Room one. £85 per night sleeps three people & includes a cooked breakfast.
*Room Two. £110 per night sleeps four people & includes a cooked breakfast.
Please contact Tracey direct on 07848448414.